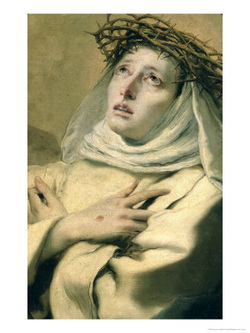 "Whatever happens to you, accept it, and in the uncertainties of your humble state, be patient, since gold is tested in the fire, and the chosen in the furnace of humiliation."
~ Sirach 2:4-5

True humility gives us courage because it reveals our true nothingness without God and teaches us how to depend on Him — and Him alone. For it is God, who in His mercy, wants to help and encourage us by His grace.

"Then he said, 'In truth I tell you, unless you change and become like little children you will never enter the kingdom of Heaven."
Matthew 18:3

When we were children, everything was provided for us by our parents. We were totally dependent on them. In a similar way, our Heavenly Father wants to provide for us and accomplish in us what we are unable to do on our own. And so comes this great gift of being humbled by God in order that we may open our eyes to see that we are 'unprofitable servants' (Lk 17, 10) who should not rely on our own strengths, but those that come from God.

St. Theresa of Avila said, "The soul must sometimes emerge from self-knowledge and soar aloft in meditation upon the greatness and the majesty of its God. Doing this will help it to realize its own baseness better than thinking of its own nature, and it will be freer from the reptiles which enter the first rooms, that is, the rooms of self-knowledge." (Interior Castles I, 2.)

True humility brings peace and allows us to serve God better; false humility only brings distress and torment to our soul. Through the 'true humility' that God wants to grant us, we become more childlike and develop a confidence that God is in control — not us.

Being humbled comes in the form of humiliation. Our will should accept these humiliations as one of God's ways of making us truly humble. If we patiently submit to them, then we will profit greatly from them. If we rebuke them and allow our own pridefulness to get in the way, then we will not be graced with true humility, but rather, anger and resentment.

Today I praise God for His gift of humiliation and exclaim, 'it was good for me to be afflicted to better learn Your ways'. (Ps. 119:71) May I never refuse to taste the goodness of being humbled, but instead, find it like scented perfume — sweet and fragrant.


Posted by: Kathy Wabick



Photo: St. Catherine of Siena, circa 1746 by Giovanni Battista Tiepolo, Wikipedia Commons, public domain.