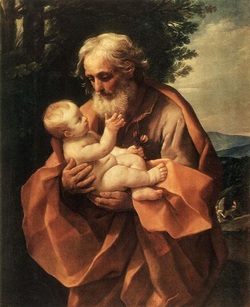 Grant, we pray, almighty God, that by Saint Joseph's intercession your Church may constantly watch over the unfolding of the mysteries of human salvation, whose beginnings you entrusted to his faithful care. Through our Lord Jesus Christ, your Son, who lives and reigns with you in the unity of the Holy Spirit, one God, for ever and ever. Amen. ~ Liturgy of the Hours
Having been the faithful guardian of the Holy Family, it is impossible that from the heights of heaven St. Joseph should not continue to protect the great Christian family, the universal Church, which, confident of his protection, and relying on his assistance, prays thus: "Sustained, O Lord, by the protection of the spouse of Your holy Mother, we beseech Your clemency … that by his merits and intercession You will guide us to eternal glory" (Roman Missal).
Good Saint Joseph, pray for us!
Photo: Saint Joseph with the Infant Jesus, Guido Reni (c. 1635); Wikipedia Commons, public domain.