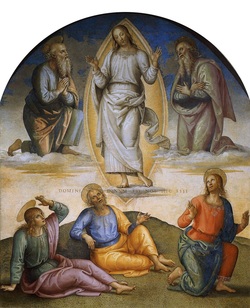 In today's Gospel reading, we hear about the Transfiguration of Jesus. Moses and Elias also appeared on Mount Tabor with our Lord who desired to teach His disciples that without suffering we are unable to reach the glory of the Transfiguration. Peter then exclaims, "It is good for us to be here," and offers to construct three tabernacles—one for Jesus, one for Moses and one for Elias. Instead, he was interrupted by a voice from Heaven saying,

"This is My beloved Son, in whom I am well pleased. Listen to him!"

Peter wanted to remain in the sweet consolation of the vision of the transfigured Jesus. God tells him to follow the teachings of His Son, Jesus Christ. Peter would soon find out that following Jesus means to take up his cross along with his sufferings and walk with the Lord.

After the vision, the Apostles saw Jesus standing alone with them. They came down from the mountain and followed Him. Jesus alone was all they needed, for through Him they would receive encouragement and consolations.

God will turn all our sorrows into joy—in His time. All we need to do is come down from the mountain to seek the Face of His Son, Christ Crucified.




Posted by: Kathy Wabick


Photo: Pietro Perugino. c. 1500, Wikipedia Commons, public domain.