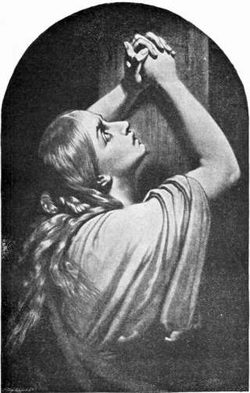 What is prayer?

Prayer is a way God reveals how much he loves us. It is a powerful means to seeking a union of love with Him. It is a dialogue with God where we offer Him our hearts. The Catechism of the Catholic Church defines prayer as, "the raising of one's mind and heart to God or the request of good things from God." [Catechism 2559]


To pray is to make the time and place for God to come into our lives.

After almost twenty years of her religious life, Saint Teresa of Avila felt her prayer life was empty and in her heart she was afraid to pray. One day, on her way to prayer with her community, she glanced at a statue of Jesus which portrayed Him after the scourging. Her eyes met His and she experienced the Lord looking at her with great love. It was so intense that she knelt down in tears, begging Jesus for help. She was determined to not stop praying until He gave her the grace to begin anew. This was the beginning of a beautiful life of intense prayer for Saint Teresa.

She demonstrates to us that prayer begins when we discover the Face of Christ, looking at us with great love.

Saint Faustina Kowalska, the great Apostle of Divine Mercy, said, "A soul arms itself by prayer for all kinds of combat. In whatever state the soul may be, it ought to pray. A soul which is pure and beautiful must pray, or else it will lose its beauty; a soul which is striving after purity must pray, or else it will never attain it; a soul which is newly converted must pray, or else it will fall again; a sinful soul, plunged in sins, must pray so that it might rise again. There is no soul which is not bound to pray, for every single grace comes to the soul through prayer." [Diary, 146]

It is important to remember that we can learn many things about prayer, but it is meaningless if we do not put what we learn into practice. The more we pray, the better we become. Remember, this is a grace and a gift from God. Place everything into His hands. Develop a thirst for Jesus because He thirsts for us. To fall in love with Christ and develop a Heart to heart—a Face to face relationship with Him, this is the deepest purpose of prayer.


Published by: Kathy Wabick



Cf Retreat on Prayer, © Disciples of Divine Mercy in the Holy Face of Jesus™, All rights reserved. Not to be used without permission.

Photo by Ary Scheffer: Mary Magdalene; Wikimedia Commons, public domain.