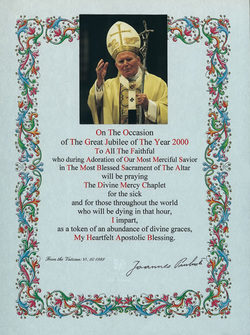 A PAPAL BLESSING FROM POPE JOHN PAULL II
The day of John Paul II's election as pope...I can still remember the excitement and wonder of a little known cardinal from Poland being chosen as the pope. I was watching the television coverage when my mother, who is very proud of her Polish heritage, came into the room. She couldn't believe what we told her. "They elected a Polish Pope!" Tears of joy, laughter, elation filled the room, soon to be replaced with chuckles at hearing the announcers trying so hard to figure out how to pronounce his name! It wasn't long before Cardinal Karol Wojtyla became Pope John Paul II, and the whole world knew his name.
He was brilliant, a prolific writer, most widely traveled, humble, holy and beloved by all. So much has been written about what he has left us, but there is one legacy that is not so well known. Pope John Paul II gave a Papal Blessing for those who while in Eucharistic Adoration would say the Chaplet of Divine Mercy for the intention of the sick and dying around the world and those who would die in that hour.
On April 27th our beloved Blessed John Paul II will be canonized and becomes St. John Paul II. We can all thank God for giving us this great saint for our times, and we can be encouraged to pray the Chaplet of Divine Mercy during Eucharistic Adoration for the intentions he mentioned knowing that he valued this prayer enough to give us his Papal Blessing for reciting it. Thank you, John Paul II. We Love You!
ST. JOHN PAUL II, PRAY FOR US!
Posted by: Andrea Long
Photo: Eucharistic Apostles of Divine Mercy; used with permission.