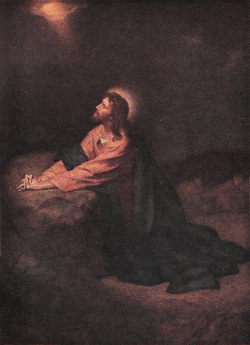 St. Thomas Aquinas so beautifully communicates to us that God would not encourage us to pray unless He were determined to listen.
"Trust in God at all times, my people! Pour your hearts to God our refuge!"
[1]
Jesus teaches us in the Lord's Payer to pray and to hope in God. We belong to God, and so, we should begin our prayer as Jesus did—by calling upon
Our Father
.
St. Thomas tells us,
"Now in the Lord's Prayer not only do we ask for what we may rightly desire, but also in the order wherein we ought to desire them, so that this prayer not only teaches us to ask, but also but also directs all our affections. Thus it is evident that the first thing to be the object of our desire is the end, and afterwards whatever is directed to the end. Now our end is God towards Whom our affections tend in two ways: first, by our willing the glory of God, secondly, by willing to enjoy His glory. The first belongs to the love whereby we give God Himself, while the second belongs to the love whereby we love ourselves in God. Wherefore the first petition is expressed thus: "Hallowed by Thy name", and the second thus: "Thy kingdom come", by which we ask to come to the glory of His kingdom."
[2]
We should pray that God may be glorified by our lives and how we live them, as it is written,
"Be holy, because I am holy."
[3] Then, with the help of divine grace, we pray that we may attain the kingdom of God.
"Do not be afraid any longer, little flock, for your Father is pleased to give you the kingdom."
[4]
[1] Psalm 62:9, The New American Bible
[2] The Summa Theologica, Q. 83, Article 9
[3] 1 Peter 1:16, The New American Bible
[4] Luke 12:32, The New American Bible
Posted by: Kathy WabickPhoto: Jesus praying to God the Father in Gethsemane, Heinrich Hofmann, 1890, Wikipedia Commons, public domain.